No. Of Surgeries
Experience
Dr. Vivek Vij is a pioneering liver transplant surgeon credited with developing living donor surgery and standardising safety protocols to achieve a 100% donor safety profile since the time of its inception in the country.
He is the first surgeon from the Indian subcontinent to publish a series of laproscopic Donor Hepatectomy in 'Liver Transplantation'.
He is the founder of Liver transplantation and Hepatobiliary Sciences in Fortis group of Hospitals, starting a highly successful liver transplant programme initially at its Noida centre and then at Mohali.
Areas Of Interest
Liver Transplant
Hepato-Biliary Pancreatic Surgery
Laparoscopic Living Donor Hepatectomy
Advanced Upper & Lower GI Surgery
Adult & Paediatric Liver Transplant
Complex Liver Surgery
Advanced Pancreato-biliary Surgeries
Advanced Laparoscopic and Robotic Surgeries
Basic Science Research and Regenerative Medicine
Treatments Offered
Liver Transplant
Starting from $27,000
Awards
The only candidate from India to be selected in the prestigious 'Roche Preceptorship Training Program in Liver Transplantation' (2006) at the University of Alabama, USA.
Vivek Vij, Decision-Analysis for selection of Graft type in right Lobe LRLT Selection of Donor Grafts – Oral presentation and travel award in ILTS
Lowest Biliary Complication rate (<4%) in Living Donor Liver Transplant (LDLT) worldwide.
First to Graft harvest of the posterior sector for living-donor liver transplantation
First active Liver transplantation Centre in Uttar Pradesh
First to transplant with Cavo-atrial Anastomosis in India
First to carry out combined liver-kidney transplants (CLKT) for children suffering from hyperoxaluria (excessive urinary excretion of oxalate)
A first surgeon from the Indian subcontinent to publish a series of laparoscopic donor hepatectomy in 'Liver Transplantation'.
Member of International Liver Transplant Society (ILTS), Chicago
Esteemed Member of International Hepato-Pancreato Biliary Association (IHPBA)
Member of Indian Society Of Organ Transplantation (ISOT)
Two awards for clinical excellence from Fortis Healthcare
Awarded by Ministry of Health (Mongolia)
International Liver Transplant Society (ILTS), Chicago.
By Hospals Team
Oct 16, 2020
Risks Involved in Liver Transplant
A liver transplant is a big operation that has a risk of some serious complications. These can occur during, soon after, or even years afterwards.
1) Failure to comply with the immunosuppression medical regimen is the number one cause of organ failure.
2) Reappearance of certain diseases like Hepatitis C, narrowed bile duct, etc.
3) Regular intakes of medicines to keep immune system, body's defense against germs from treating the new liver as an invader that needs to be attacked.
4) Hepatic Outflow Obstruction, etc.

Here, in this video one of the top liver transplant surgeon in Delhi/NCR Dr. Vivek Vij explains us certain more risks that are involved in Liver Transplantation.
Watch this video to know more.
Why & How Liver Transplant Through A Living Donor Is Safe
The number of patients suffering from liver-related diseases is continuously increasing. In severe cases, a liver transplant is the only cure. Until a few years ago, due to lacking technology, liver disease cure was a distant dream. But with technological advances, the patient not only can lead a long life, but the treatment is simpler and less dangerous too. One way of taking liver transplant in consideration is with the help of living donors, which in India is said to be a much safer procedure, says Liver Transplant expert Dr Vivek Vij from Fortis Hospital, Noida.
Before we take this topic ahead, it is essential to understand that what is a living liver donation?
Read below to know how liver transplant works with a live donor:
Those donating a part of their liver, and are very much alive, is termed as a living donor. Here, a donor pledges a part of their liver to a transplant candidate or recipient. Wondering what happened to the living donor after donation a part of their liver?

Dr Vij explains that the liver of the living donor regenerates with a few months of the surgery. It works the same way for the recipient too.

Living Donor Transplant In India
Taking a transplant from a living donor is very much a transparent process in India. Apart from immediate relations, other transplants need state-appointed Authorisation committee's approval. Before signing any document, the risk and success for both the involved parties are adequately explained. Listed below are some requirements for one to be a living liver donor:
The age of the donor should be in the bracket of 18-55.
The weight of the donor should not be above 85 kgs to not get under the risk of fatty liver.
Either same blood group or a universal donor is considered to become a living donor.
Screening medical examinations like CBC, serum creatinine, HCV antibody, chest X-ray, abdomen ultrasound, PT, LFTs, etc. are performed to check whether the living donor matches with the recipient.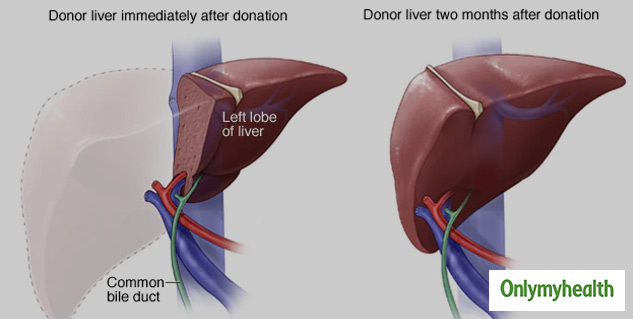 If a person has donated some part of his liver, then he should take care of these five things:
No heavy physical exercises
Maintaining a healthy diet.
Recommended is not to drive
Keep in touch with the doctor
Liver disease is one such problem, which every other person in India suffers from. However, people adopt a variety of methods such as taking medicines, exercising, altering food, etc. to solve this. But when these methods do not affect health, then doctors recommend people to undergo transplants. Although many people want to become liver donors, they are unable to perform this virtuous work due to incomplete knowledge of this process.