Established Year - 2004
Fortis Noida
B-22, Rasoolpur Nawada, D Block, Sector 62, Noida, Uttar Pradesh 201301, India
Fortis Hospital, Noida is a premier state-of-the-art facility with over 200 beds including 7 operation theatres.The hospital is positioned as a Centre of Excellence in oncology, orthopedics, neuroscience, liver transplant, kidney transplant, and with a... read more
Send Enquiry
About Hospital
Fortis Hospital, Noida is a premier state-of-the-art facility with over 200 beds including 7 operation theatres.
The hospital is positioned as a Centre of Excellence in oncology, orthopedics, neuroscience, liver transplant, kidney transplant, and with a key focus on cardiac sciences and emergency trauma care services.
The second mega hub hospital, in the Fortis Healthcare group, it caters to the special needs
Team & specialisation
The hospital is the only corporate facility in Uttar Pradesh that covers an entire array of specialties from diagnostics to organ transplant (kidney & liver).
The Cardiac Centre for Excellence at Fortis Hospital, Noida has carved a name for itself in the medical fraternity.

The hospital has also emerged as one of the leading referral Centre for renal science across the country. It is equipped with a spacious state-of-the-art dialysis unit that minimizes the risk of infection to ensure a safer dialysis process for our patients.

Treatments Offered
Internal Medicine
Starting from $800
GI & Bariatric Surgery
Starting from $1,000
Opthalmology
Starting from $1,200
Rheumatology
Starting from $1,500
General Surgery
Starting from $2,500
Nephrology & Urology
Starting from $2,500
Doctors
Infrastructure
Patient Testimonials
Blogs
Why & How Liver Transplant Through A Living Donor Is Safe
The number of patients suffering from liver-related diseases is continuously increasing. In severe cases, a liver transplant is the only cure. Until a few years ago, due to lacking technology, liver disease cure was a distant dream. But with technological advances, the patient not only can lead a long life, but the treatment is simpler and less dangerous too. One way of taking liver transplant in consideration is with the help of living donors, which in India is said to be a much safer procedure, says Liver Transplant expert Dr Vivek Vij from Fortis Hospital, Noida.
Before we take this topic ahead, it is essential to understand that what is a living liver donation?
Read below to know how liver transplant works with a live donor:
Those donating a part of their liver, and are very much alive, is termed as a living donor. Here, a donor pledges a part of their liver to a transplant candidate or recipient. Wondering what happened to the living donor after donation a part of their liver?

Dr Vij explains that the liver of the living donor regenerates with a few months of the surgery. It works the same way for the recipient too.

Living Donor Transplant In India
Taking a transplant from a living donor is very much a transparent process in India. Apart from immediate relations, other transplants need state-appointed Authorisation committee's approval. Before signing any document, the risk and success for both the involved parties are adequately explained. Listed below are some requirements for one to be a living liver donor:
The age of the donor should be in the bracket of 18-55.
The weight of the donor should not be above 85 kgs to not get under the risk of fatty liver.
Either same blood group or a universal donor is considered to become a living donor.
Screening medical examinations like CBC, serum creatinine, HCV antibody, chest X-ray, abdomen ultrasound, PT, LFTs, etc. are performed to check whether the living donor matches with the recipient.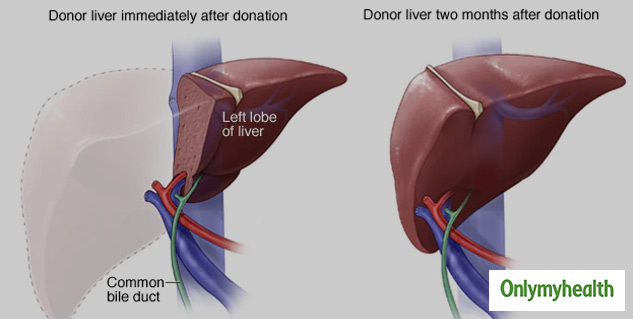 If a person has donated some part of his liver, then he should take care of these five things:
No heavy physical exercises
Maintaining a healthy diet.
Recommended is not to drive
Keep in touch with the doctor
Liver disease is one such problem, which every other person in India suffers from. However, people adopt a variety of methods such as taking medicines, exercising, altering food, etc. to solve this. But when these methods do not affect health, then doctors recommend people to undergo transplants. Although many people want to become liver donors, they are unable to perform this virtuous work due to incomplete knowledge of this process.